Leffe stands with open arms in a divided world, inspiring us to be welcoming again.
For centuries, the Abbaye de Leffe has welcomed all with open arms. And ever since it was first brewed in 1240, so has the world-famous beer that bears its name. This spirit of hospitality lies deep within our foundations, but it's also an art, earned and passed down from generation to generation.
Leffe as we know it was born in 1240, the year that the Abbey monks first brewed beer. In those days though, when the great plagues had made water unsafe to drink, our beer wasn't just a pleasure, but a vital public good: pure, nutritious and delicious. Soon, the Abbey became renowned as a place of refuge and hospitality, throwing its doors open to pilgrims from all walks of life, welcoming them in with comfort, shelter and refreshment.
Through war and peace, renaissance and revolution, those doors have remained open. To this day, we retain a deep a connection to the Abbey, regularly meeting together to share our progress: united by the spirit of hospitality that defines us. Which is why our purpose is as clear now as it's ever been:
Leffe stands with open arms in a divided world.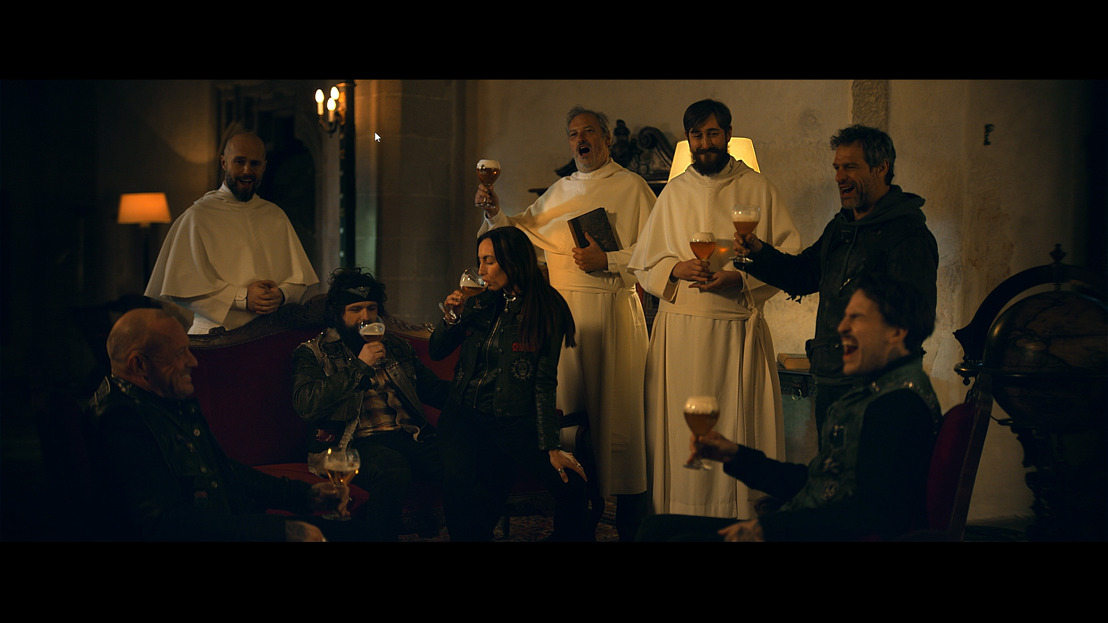 Number of years since the first Leffe was poured
Number of countries in which Leffe is sold
Ranking of Abbey beers in the world
Taste
Leffe Blond: Subtle notes of vanilla and cloves
Dry, fruity, delicately malted beer with a subtle bittersweet finish and a creamy head. The perfect accompaniment to cold cuts, crudités and toasts made with fresh cheese, tomatoes and basil.
Ale type: pale ale. Alcohol (%) - ABV; 6,6.
Leffe Ruby: Refined notes of red fruits and rosewood
Sweet, fruity and highly aromatic, Ruby has a rich floral palette, with delicately woody and subtly spicy red fruit accents. It pairs well with sheep's cheese, sourdough bread and sweet or savoury appetizers.
Ale type: fruity ale. Alcohol (%) - ABV; 5,0.
Leffe Brune: A roasted aroma with caramel notes
Sweet and creamy beer, with the bitterness of roasted coffee and caramelised notes in the finish. Brune's roasted aromas go perfectly with saltysweet dishes and cheeses such as Mont d'Or with walnuts.
Ale type: dark ale. Alcohol (%) - ABV; 6,5.
Leffe Ambree: Notes of spices and grilled malt
A refined combination of orange peel, spices and roasted malt aromas with a delicate citrus bitterness. Drink instead of a complex wine with sophisticated dishes and cheeses.
Ale type: amber ale. Alcohol (%) - ABV; 4,3.
Leffe Rituel 9: Intense and mellow, with hints of vanilla and bitter spices
An indulgent, deep golden beer full of character and perfectly balanced with subtle traces of fruit and moreishly bitter spice. Its punchy and pronounced taste pairs well with cold cuts and hard cheeses like comté.
Ale type: pale ale. Alcohol (%) - ABV; 9,0.
Leffe Triple: Powerful and bitter unfiltered beer
A full-bodied beer with a rich and elaborate taste, full of spicy aromas from the subtle blend of coriander and orange. An excellent alternative to a robust white wine, it goes perfectly with strong cheeses and seafood.
Ale type: pale ale. Alcohol (%) - ABV; 8,5.
Leffe Des Vignes: Subtle aromas of white grapes with floral notes
With its light colour and fine bubbles, this refined grand cru is a call to discovery: drawing you in with subtle aromas of white grapes and delicatefloral notes. Ideally paired with a soft and creamy goat's cheese.
Ale type: flavoured ale. Alcohol (%) - ABV; 5.
Leffe Royale Blonde: Sophisticated flavour and delicate hop aromas
Leffe Royale Blonde stands out for its delicate bitterness, balanced with its vanilla aromas and resinous notes of Whitbread Golding hops. Brewed with three hop varieties, this golden-copper beer is pure refinement.
Ale type: pale ale. Alcohol (%) - ABV; 7,5.
Leffe Royale IPA: Pronounced notes of hops and intense freshness
Inspired by the traditional India Pale Ale style, Royale IPA is lively, intense and packed with character. Dry-hopped with Cascade Hops, this golden beer is full of freshness with delicate citrus notes of lemon and yellow grapefruit.
Ale type: pale ale. Alcohol (%) - ABV; 7,5.
Leffe Royale Ambree: Spicy notes with a refined bitterness
A complex beer, with a rich palette of berries, each and apricot notes. Composed with Mounthood hops, this amber-coloured beer is full of delicate spice and refined bitterness.
Ale type; amber ale. Alcohol (%) - ABV; 7,5.